Vote for the project Restoration of the historical promenade - till 9 DEC 2018

The City of Levice submitted a project "Restoration of the historical promenade" within the framework of community grants from the VUB Foundation to the second round of voting. Within the framework of the grant program, the project "Restoration of the historical promenade" succeeded in challenging competition of 386 applications. A total of 8 projects from each region were submitted to the public vote.
The success of the project is now in the hands of the public, who decides on the winning project in internet voting. Voting will take place from November 26 to December 9, 2018 at www.komunitnegranty.sk. Four projects from each region, that receive the highest number of votes in the public poll, will receive a grant from the VUB Foundation at the required amount (maximum 5,000 €). The project with the highest number of votes in each region will receive a bonus increase of 100%, so it will receive up to € 10,000.
Voting is free and is done by entering a phone number to which the voter receives a SMS code. This code then enters to the web page and sends the voice. Each phone number can be used to vote only once. Therefore, it is important that all of you vote, so our town receives as many votes as possible.
The restoration project of the historical promenade was created at the initiative of the Levice Enhancement Society. The aim of the project is to revitalize the area of the former promenade leading from the city center alongside the cemetery to the calvary. By clearing the space, creating a sidewalk and setting the benches, space for a pleasant relaxation will be created in the setting of the nature and big old trees.

In 2017, the city received funds under the Grant Challenge "Shine bright in good light 2017", announced by the Slovak Power Plant Foundation at the Pontis Foundation. In the first phase of the implementation of the project, the foundations of the future park restoration were laid - the area was cleaned from the ravines, the waste and the building block and the information board was installed. The next stage of the project will continue with the revitalization of the promenade so that it can serve all the inhabitants of Levice city, thereby creating a connection with the Calvary route.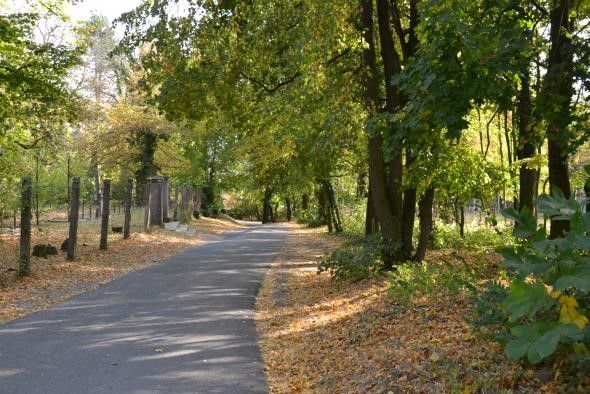 ·        
·        
·        
·